Early Childhood Lesson Plans 
All About Me Theme 
Preschool Lesson Plans for Free!

The all about me theme is a natural way to begin the year after you have established a daily routine in your class. As you will see from the activities below, this theme can be incorporated to all areas of development.

Early childhood lesson plans for All About Me Theme:
Big ideas, concepts and values:
1. I am a unique individual.
2. Non of us are exactly the same.
3. I have different roles in life. I am a son/daughter, a grandson/granddaughter, a sibling, a friend.
Essential Questions:
1. Who am I?
2. What are my likes?
3. What are my dislikes?
In Class Activities:
Library:

Using the environment as a third teacher, I like to transform our class library and add theme related books. Here are my four top choices:
Children, Children Who Do You See? 
Take a picture of each child, print it and let them glue it on an 8 /12 x 11 page. Write their name on the top of their page in large clear print. Place all the pages in a binder to create a book similar to "Brown Bear, Brown Bear" by Leo Lionni. I like to 'read' it with the children. It sounds like this:
(first page) "Rachel, Rachel who do you see?"
(turn the page) "I see David looking at me."
"David, David who do you see?"
"I see Amanda looking at me"
Fine Motor Skills:

Self Portrait - Let the children draw a self portrait. This is a great fine motor activity as well as a hand eye coordination activity.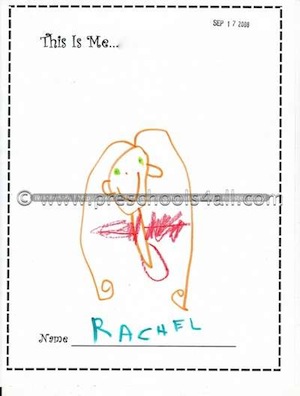 Math Center:

Boy/Girl Pattern - Create this pattern during circle time by asking the children to sit boy, girl. Repeat this pattern using small boy girl manipulatives.
Boy/Girl Graph - With the help of the children create a graph showing the number of boys and girls in the class.
Pre-Reading: 
Matching Game - By having the children match photos of their peers to their name cards you will be giving them the opprotunity to practice early reading skills.
Art Center:

Hand prints and Foot Prints - A fun way to get messy and learn about parts of our bodies that make us who we are.
Special Activities:

Baking Thumb Prints Cookies - Use a basic sugar cookies recipe and have the children press their thumb to the center of each cookie dough ball.
Home Connection:

Life Size Self Portrait - As part of this all about me theme, send home a life size trace of the child and ask the parents to create with their child a life size poster of the child. Encourage the parents to discuss with the child what needs to be on the poster. What represents the child? What are some of their favorite things?
Baby Photos - Ask for baby photos of the children and display them on a "Guess Who?" poster as a fun game for both the children and their parents.
Dramatic Center:

Mirrors - Adding mirrors to this center will allow the children to see themselves from various directions. Play with the angels of the mirrors. Put some on the top and all around.
Science Center:

Thumb Prints - Using ink pads, let the children explore the finger prints on paper. You can also create something out of their finger prints... such as a butterfly, a flower, a turtle. Discuss how each of our finger print is differnt and as unique as we are.
Music Center:

These are a couple of my favorite songs for the all about me theme:
Your Face - Bob McGrath
Everyone Asked About You - Bob McGrath

"A Teacher Affects Eternity"
---
Preschool Activities Home > Preschool Lesson Plans >

---
Visitors Favorite Pages: