Gingerbread Man Recipe for the 
Best Gingerbread Man Cookies
Delicious and easy to make gingerbread man recipe of the best gingerbread man cookies.
This well known story is loved by children. They tend to enjoy 'reading' along and to participating in the storytelling by repeating the famous lines:
"I run from a husband, I run from a wife, I run from a butcher with a carving knife."
Today there are many variations of The Gingerbread Man Story:

You can use these stories as spring board to many preschool activities. As always, let the children guide you and remember to take the T.I.M.E.

Think Influential Meaningful Experiences.
Gingerbread Man Activity Suggestions:
Baking gingerbread man and building a gingerbread house.
Gingerbread Man Recipe:
Ingredients:
2 cup Margarine

2 cup granulated sugar

2 eggs

2 cups molasses

1/4 Cup-or 4 Tablespoons vinegar

10 cups sifted flour

l Tablespoon baking soda

l teaspoon salt

2 Tablespoons ginger-or 6 tsp.

2 teaspoons cinnamon

2 teaspoons cloves
Directions:
Cream margarine and sugar.
Add the eggs, molasses and vinegar. Beat well.
Sift together all the dry ingredients.
Stir into molasses mixture, and mix well.

CHILL for at least 3 hours.

On lightly floured surface, roll out dough to 1/4 inch thickness.

Cut with a gingerbread cutter.

Place an inch apart on greased cookie sheet.

Bake at 350F degrees for about 8 to 10 minutes or until done.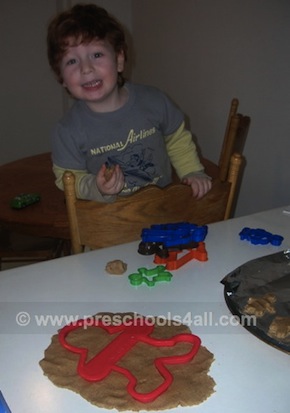 Fine Motor Activities - Cut out a gingerbread man shape out of paper. With a hole puncher make holes all around the edges and create a lacing activity.
Fine Motor Activities - Use gingerbread cookie cutters as tracers.
Creative Center - Allow the children to retell the story using the felt board along with the characters of the story made out of felt.
Pre Writing - After reading a variety of versions of the story, ask the children to tell you their own ending.
Pre Writing - Create mini books to allow the children to draw their own stories.
Creative Center- Dress up clothes of the characters in the story, puppets of the characters. You can also turn your creative center to the kitchen of the little old man and the little old woman by adding play dough, cookie cutters, oven mitts and cooking tray.
Music and Movement - Tell the story while allowing the children to add the background music. How can we play scary music? happy music? suspense? worried?
Here are some more activities that will help develop your child's math, fine motor and creative skills.

Preschool Activities Home > Preschool Lesson Plans > Gingerbread Man
---