Fun Preschool Activities for Mothers and Teachers

Discover preschool activities that will do more than just keep your child occupied.

Yes, I am one of you. I am a mother of three young boys - sweet, delicious, love them to death but they drive me nuts sometimes. (That's two of them below) and... I am also a preschool teacher ;)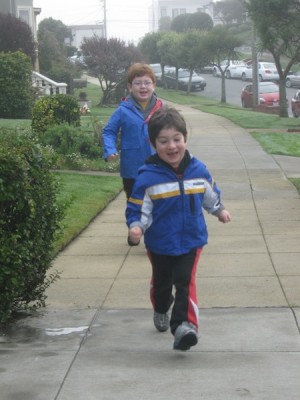 In other words, I am the person who greets your precious little angels with a big smile and a warm welcome every morning as they trot into the classroom.

And yes, it can be a real challenge at times. Organizing activities, reading stories, baking cookies, playing in the park, making bracelets, building pillow forts in the living room... the list goes on. Life is a juggling act that today's modern moms (me and probably you too) have to perform all the time.
How do we do it well and how can we do it with ease?

Now, this is every twenty-first century woman's little secret - We make the right choices that will save us time and money. Time and money are the two things almost all mothers and teachers never have enough of (unless you are one of the lucky ones).

This is where I come in handy and why I created this website... I am here to save you time and money! (Don't you love me already?)

This website, Preschools 4 All, contains a wide variety of preschool activities that I acquired or created over the years as both an educator and a parent.

Not only will these fun and simple preschool activities save time and money, but they will also help develop the life long skills that your child needs in order to succeed in school and beyond.
Being a Parent Makes Me a Better Teacher, and Being a Teacher Makes Me a Better Parent.
In school, I depend on my early childhood education and teaching skills to create purposeful study and play times for my preschoolers. At home, I rely on my experience with children (my own and others) to raise my kids.
However most parents are not teachers by profession, so time and time again, I find myself helping out parents who are looking for fast solutions or clear explanations about their child's behavior.
Preschools 4 All is my answer to all those questions. It is meant to help parents and educators raise independent, creative thinkers through learning, reading, playing and socializing - I call this the T.I.M.E. philosophy.
Most Popular Pages

The Best and Most Popular Children's Books

Nothing shapes a young child's mind quite like reading. Introduce them to meaningful, colorful and well-crafted stories, and chances are they will develop a lifelong passion for reading (and learning). Having read (and re-read) hundreds of children's books, join me as I reveal which are the must-read timeless classics, modern best sellers and favorite kids picks.
How Well and Fast Are Your Kids Growing?

Are your kids growing up fast and developing well? Find out how are they progressing in the key areas of childhood development: gross motor skills, fine motor skills, cognitive learning, language skills and emotional well being.
Fun and Meaningful Activities for Preschoolers

My early childhood lesson plans will make it a breeze for you to have worthwhile and fun activities with your preschoolers. Introducing your little ones to outer space? Celebrating Mother's Day with them? Sharing bible stories such as David and the Goliath? You will find them among my tried-and-tested collection of lesson plans.