About Preschools 4 All
Hello and welcome to my site Preschools 4 All. I am a woman, a wife, a teacher and a parent, and I never thought I would say this, but I am a webmaster too!

And just in case you were wondering what I look like, here I am with my three favorite people in the whole wide world: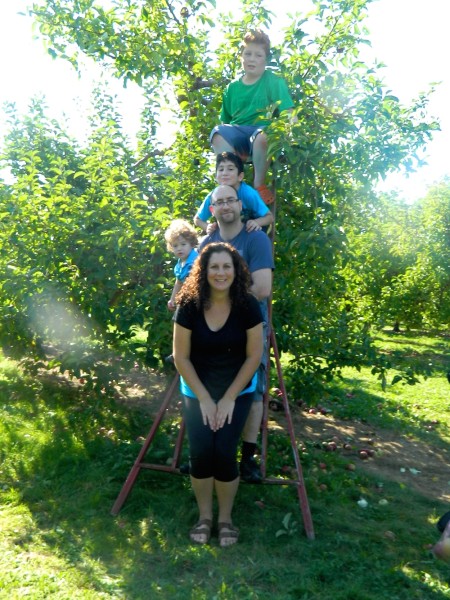 For as long as I can remember, my life revolved around children and teaching. Even as a child I enjoyed pretending to be a kindergarten teacher, then one day I became one. It must be genetics because both my great-grandmother and my grandmother were preschool teachers and my mom is a ballet teacher.
Genetics or not, educating preschoolers is what I do best. And even though it might seem like all I do is play, sing songs, read stories and make art, what I am really doing is changing the world one preschooler at a T.I.M.E.
From the way I see it, Children are Born Perfect and Our Job is Not to Break Them.
We all have our children's best interest at heart but we do not always have the right tools at our disposal.
I am not a child psychologist, a child therapist, or a doctor; I am simply a parent and an educator who is giving away my personal secrets on how to create every moment with your child a meaningful one.

Still unsure what T.I.M.E. is all about? Visit my Preschool T.I.M.E. page to read and watch some short videos.
How I Turned My Passion into Income

A few months back, I was introduced to Site Build It! (SBI). It became my passion, my obsession, and my calling. I am building this site because I believe that by reaching as many parents and educators, together we can change the world one preschooler at a time.
If you are looking for a way to build your own website and online business, on your own terms and at your own time and pace, take the time to watch this three minute video. It will change your life forever! It sure changed mine.

In late 2008 I was introduced to SBI. I fell in-love right away. It was a great way to spread the word around the importance of early childhood learning and meaningful preschool activities. Like many other SBIers, I turned my passion into an online business. Visit this page and find out why so many people love SBI.

SBI has the most friendly forum on the net. I use it often and never feel alone. The support I get from my fellow SBIers make the process of Site Build it much smoother.
"Wisdom is Knowing What to Do Next, Skill is Knowing How to Do It, and Virtue is Doing It."
The above quote by David Starr sums up the whole Solo Build It process - It shows you step by step how to build a thriving website that generates traffic, then gives you all the tools and advice you will need in one place. Click here for more real life examples of regular folks who are making a living from Solo Build It.
Preschool Activities Home > About Me