Winter Craft Ideas and
Preschool Winter Activities
While planning for kids Winter craft ideas and activities remember the philosophy of T.I.M.E. and always think of ways to create activities that are closely related to your child's interests. 

Learn about my T.I.M.E. philosophy by visiting my Preschool Ideas page.
Winter Craft Ideas:
Frosty The Snowman
Develops: Language Skills, Reading Comprehension Skills
Materials:
Black paper




Doily

White Paint

Button

Yellow Construction paper

Googly Eyes

Glue

Scissors
Process:
Cut out the circles for the body and the hat.

Place the doily on the smaller circle.

Paint over the doily with the white paint.

Remove the doily and let the paint dry.

Add the facial features.

Glue the hat and circles together along with Frosty The Snowman song.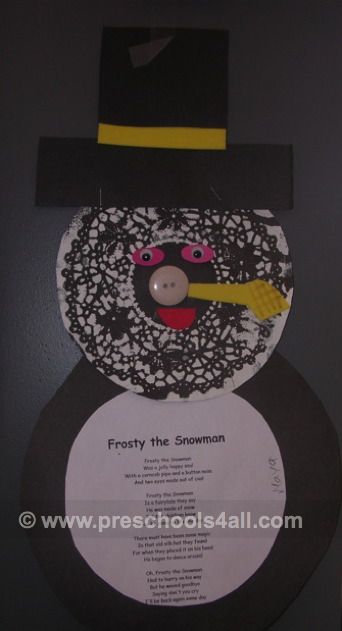 Snow Flakes
Develops: Fine Motor Skills
Materials:
White paper
Scissors
Process:
Fold the paper into 1/8.
Cut out a circle
Cut out figures and shapes through all the layers.
Unfold and reveal a snowflake shape.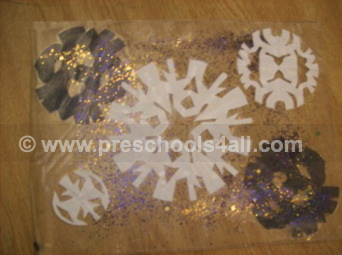 Window Decorations and Mobiles 

Materials:
Black and white snowflakes in all sizes
Mac tac paper
Sparkles
Process:
Place the snowflakes on the sticky part of the mac-tac paper.
Cover it with another mac-tac paper for a mobile or place it directly on the window for window decoration.
Chalky Snowman
Develops: Math Skills - Shapes
Materials:
Colorful chalk
Black construction paper
Shape tracers
Process:
Using the tracers, trace the shapes on the paper to create a snowman.
Color with the chalk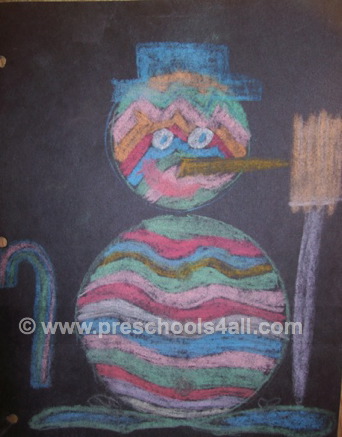 Icicles
Develops: Language Skills
Just in time for winter this cool activity allows children to enjoy watching the properties of paint.
Materials:
Paper
Paint - Blue, White
Paint brush
Sparkles
Newspaper
Process:
Paint the paper with a mixture of blue and white paint to create a lighter color blue.
Squirt large amounts of white paint at the top of the page. Add drops of blue to it.
Lift the page and let the white paint to flow down the page.
Add silver glitter for an icy look.
Place by the window for a beautiful winter scene.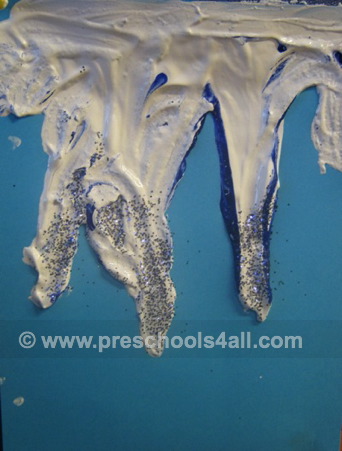 Pattern Mittens
Develops: Math Patterns Awareness
Vocabulary words: Right, left, opposites and a pair.
Materials:
Paper
Scissors
Crayons
String
Process:
Cut out the shape of mittens out of the paper.
With a pencil draw the design on the mittens.
Color in the lines in patten way. (blue, red, green, blue, red, green and so on)
Connect the mittens with the string.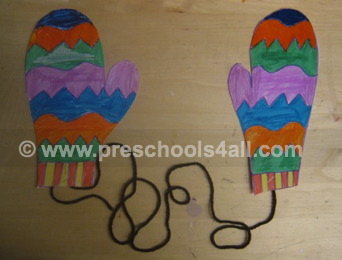 Winter Scene
Develops: Social and Emotional Development
Materials:
Large size black (or navy) material.
Paint and paint brushes.
Paper and crayons.
Process:
Allow the children to paint a winter scene while working together as a team. Experiment with painting and printing on material.
Once the paint dries, each child can add their own object to the scene (tree, snowman, a child skiing.)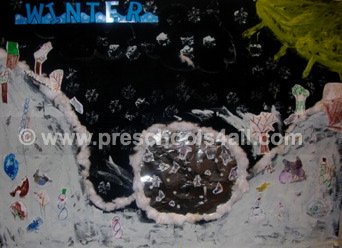 Home > Winter Lesson Plan > Winter Craft Ideas
---