Easy Halloween Cake Ideas

These Halloween cake ideas and Halloween cupcakes are sure to make your party a great success.

Halloween Cupcake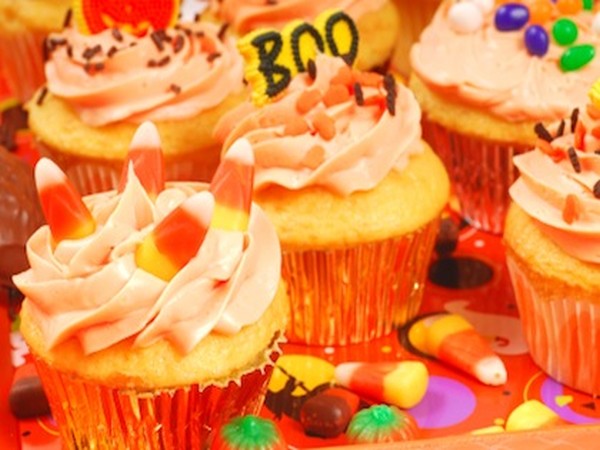 Ingredients
2 cups Sugar
1 cup Vegetable Oil
4 Large Eggs
2 cups All-Purpose Flour
2 tsp Baking Soda
2 tsp Ground Cinnamon
1/2 tsp Ground Ginger
1 tsp Baking Powder
1/2 tsp Salt
2 cups Pumpkin Puree
1/2 cup Chopped Pecans (optional)

Directions
1. Combine sugar, vegetable oil and eggs in a large mixing bowl. Mix well.
2. Stif dry ingredients into a separate bowl.
3. Stir into oil mixture, beat well.
4. Stir in pumpkin puree.
5. Pour to muffin pan.
6. Bake at 350 degrees F for 20 minutes.
You can also buy the Mini Pumpkin Pan below to give your cupcakes a thematic shape.

Cream Cheese Icing
1/4 cup Butter
8 ounces Cream Cheese
1 pound Confectioners' Sugar
2 tsp Vanilla Extract
1.  Simply beat the icing ingredients until smooth.
2. Add candy corn and other sweets for decoration.

Pumpkin Pie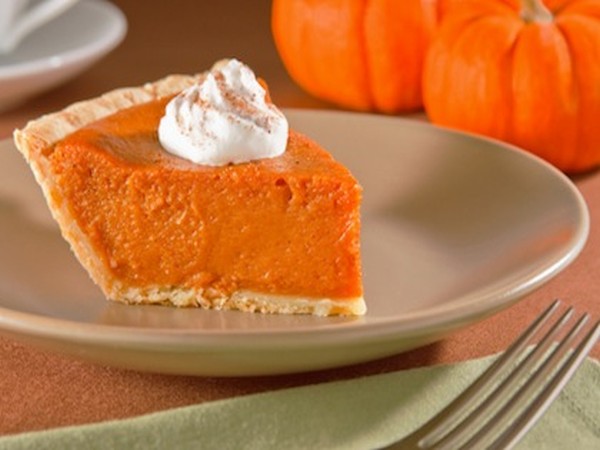 Ingredients
1 lb Ready-made Pie Shell
Filling:
3 Eggs
2 cups Pureed Pumpkin
1 cup Sugar
1/2 cup Maple Syrup
1/4 tsp Salt
1/8 tsp Nutmeg
1/8 tsp Ground Cloves
1/8 tsp Ginger
1 tsp Cinnamon
1 2/3 cups Evaporated Milk
Directions
1. Place the pie shells on the pan.
2. Mix all the remaining ingredients with an electric mixer.
3. Pour into the pie shells.
4. Bake at 350 degrees F for about 45 minutes.
5. Cool and serve with ice cream.

Pumpkin Cake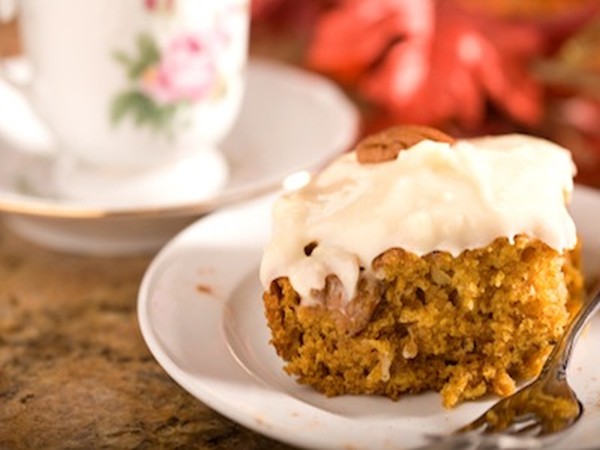 Ingredients
1 cup Wheat Flour
2/3 cup White Flour
1 1/2 tsp Cinnamon
1 tsp Baking Soda
1/2 tsp Baking Powder
1/2 tsp Nutmeg
1/4 tsp Salt
1/3 cup Butter
2/3 cup Sugar
1/2 tsp Vanilla
2 Eggs
1 cup Pumpkin Puree
1/3 cup Water
3/4 cup Raisins

Directions

1. Preheat oven at 350 degrees F
2. In a bowl, mix all the dry ingredients EXCEPT the sugar. Set aside.
3. In a separate bowl, mix the butter, sugar and vanilla.
4. Add the eggs one at a time.
5. Add the pumpkin puree.
6. Add the dry ingredients mixture slowly alternating with adding the water.
7. Mix until the mixture is smooth.
8. Add the raisins.
9. Pour to the pan. Bake for 1 hour.
Once cooled you can decorate with the cream cheese icing from the cupcake recipe above. Enjoy!