Easy and Delicious Halloween Cookie Recipes

I searched for the best Halloween cookie recipes that are fun to make, taste delicious and can teach your children a lesson or two along the way. Here are my tried and tested Halloween cookie recipes:

Ghost Meringue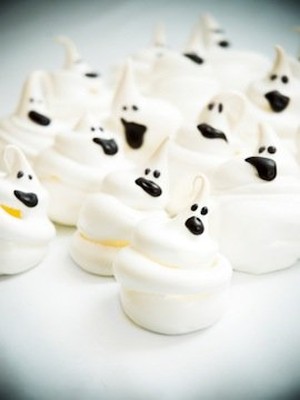 When making these sweet meringues with your child you are helping them develop their fine motor skills (as they need to use their little fingers to place the sprinkles and licorice candy for the face), as well as developing their language skills by discussing the process that is requires to make these Halloween cookies.
Ingredients
4 Egg Whites
2 1/4 cups Confectioner's Sugar
Black Licorice Candy
Chocolate Sprinkles
Equipment
Glass Bowl (or metal)
Electric Mixer
Pastry Bag (with a large tip)
Directions
1. Butter and flour a baking sheet.
2. Preheat oven to 200 degrees F (95 degrees C).
3. Whip egg whites until foamy using an electric mixer.
4. Add in sugar slowly and continue to whip at a medium speed.
5. Stop mixing when the texture of the mixture is still and shiny.
6. Transfer the mixture to a large pasty bag.
7. Pipe the mixture out onto the baking sheet.
8. Place the meringues in the oven.
9. DO NOT close the oven door completely. You can place a wooden spoon to keep the door from closing.
10. Bake for 1 1/2 hours.
11. Remove from the oven. The meringues are not fully cooked but now is the time to add the chocolate sprinkles and black licorice.
12. Return to the oven for another 1 1/2 hours or until the meringues are fully dry and easy to remove from the pan.
13. Allow the meringues to cool down and enjoy!

Pumpkin Cookie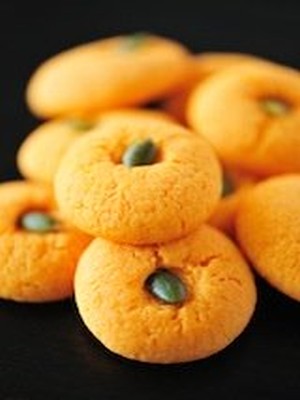 These Halloween cookie recipes includes spices that children might not be used to. Explore the sense of smell with your child by closing their eyes and letting them guess which spice they are smelling.
Ingredients
1 1/4 cup Flour
1/2 tsp Cinnamon
1/4 tsp Salt
1/2 tsp Nutmeg
1 pinch of Ginger Powder
1 1/2 tsp Baking Powder
1/4 cup Soft Butter
1/2 cup Brown Sugar
1 Egg
3/4 cup Pumpkin Puree
Pumpkin Seeds (peeled and ready to eat) - optional

Equipment

2 Mixing Bowls
2 Mixing Spoons
Directions
1. Butter and flour a cookie sheet.
2. Preheat oven to 400 degrees F (200 degrees C).
3. Mix all the dry ingredients.
4. In a separate bowl beat the soft butter, egg and brown sugar to a smooth texture.
5. Add the pumpkin puree to the 'liquid' bowl.
6. Add dry ingredients mixture.
7. Place spoonful on the cookie sheet. Spacing the cookies one inch apart.
8. Add the pumpkin seeds to the center of each cookie.
9. Bake for about 10 minutes. Do not over bake! Enjoy!

Halloween Sugar Cookie

Using cookie cutters and playing with dough is another great way to develop your child's small muscles and their fine motor skills. You can buy this Halloween cookie pan and bake the perfect Halloween cookies:

Ingredients
2 3/4 cups All-Purpose Flour
1 tsp Baking Soda
1/2 teaspoon Baking Powder
1 cup Softened Butter
1 1/2 cups White Sugar
1 Egg
1 teaspoon Vanilla Extract
Equipment
2 Mixing Bowls
2 Mixing Spoons
Directions
1. Preheat oven to 375 degrees F (190 degrees C).
2. In a small bowl, stir together flour, baking soda, and baking powder.
3. In a large bowl, cream together the butter and sugar until smooth. Beat in egg and vanilla.
4. Gradually blend in the dry ingredients.
5. Roll rounded teaspoonfuls of dough into balls, and place onto ungreased cookie sheets.
6. Bake 8 to 10 minutes in the preheated oven, or until golden.
7. Let stand on cookie sheet two minutes before removing to cool on wire racks.